The Chinese character "FU"("福") means good fortune and happiness. "FU culture" is an indispensable part of traditional Chinese culture, which has a very long history. During Spring Festival virtually every family would paste a FU papercut upside down on their doors in the hope that the word could bring blessings to their families. The character "FU" represents people's blessing for a healthy family, a happy life and a better future.
PCGS designed a special label for 2017 FU silver New Year commemorative coins, by which we would like to express the most sincere blessing to everyone. On the back side of the label, the character FU and the Chinese word "Wish you all the Best"("万事如意") are in the middle of the image with flower blossoms in bloom around. FU means good wishes like health, reunion, wealth, happiness, success, etc. All the good wishes are embodied in this FU label.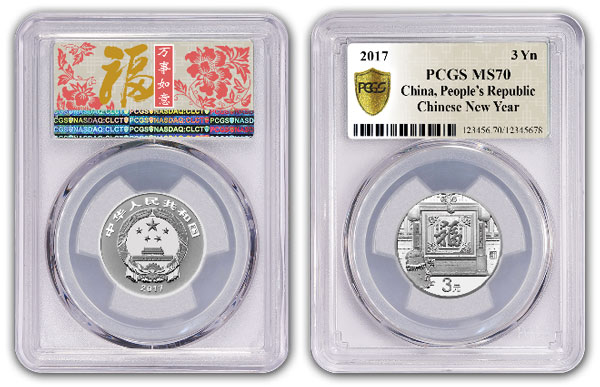 Special labels are available for 2017 FU silver New Year commemorative coins to make your coins more meaningful. Coins must fit into a standard size PCGS holder. (The diameter of the coins must not exceed 40mm.) You can submit your eligible coins to PCGS from now on. Individual application of special label charges are 5 USD per piece, based on the rating fee. Please contact PCGS at [email protected] for bulk submissions.
Founded in 1986 by distinguished numismatic experts, Professional Coin Grading Service is the most respected coin authentication and grading company in the world and has offices in Hong Kong, Shanghai, Paris and the United States.
For additional information about PCGS and its services, visit www.PCGSasia.com or email [email protected]