PCGS Certificate Verification
Enter the certificate number below to verify any PCGS coin or PCGS Banknote certified banknote.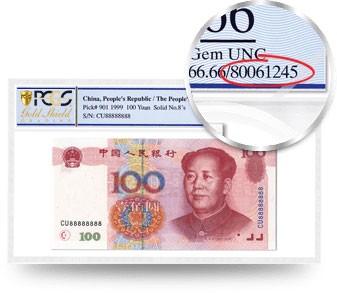 When you see a PCGS coin or PCGS Banknote for sale, you can verify the authenticity and grade of the item by entering the certificate number in the above box. The unique certificate number is printed on the label and is securely encapsulated with the collectible. After you receive the coin or banknote, it should have the same PCGS or PCGS Banknote certificate number, grade, and description as you see in the online results.
Important Note: Verification of certificate numbers within our Certification Database does not eliminate the risk of buying counterfeit and/or altered coins or banknotes, because persons who manufacture such collectibles may also counterfeit PCGS or PCGS Banknote inserts using actual certificate numbers derived from public sources. Always verify the legitimacy of any transaction before proceeding.