PCGS SECURITY
MAXIMUM VALUE | MAXIMUM SECURITY | MAXIMUM LIQUIDITY
Instant Verification in
One Scan
All PCGS holders are formed using a specially engineered plastic that contains an inert additive. This additive is detectable only by a hand-held reader developed exclusively for PCGS. These readers have been provided to select PCGS Authorized Dealers to aid counterfeit detection in the marketplace.
A Better Weld for Improved Durability
The PCGS holder features reformulated plastic and a new design that creates much stronger weld. The result is a holder that is more difficult to chip, holds up better to drops, and more readily reveals tampering.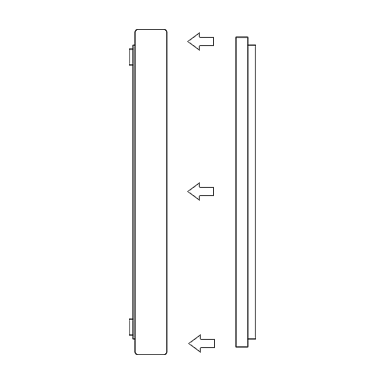 Front Slab
Rear Slab
GET BEHIND THE GOLD SHIELD
Look Closely - this is no ordinary shield. Microtext makes the PCGS Gold Shield uniquely secure.
VERIFY AUTHENTICITY ON THE GO
Hold your NFC enhanced device up to the slab for coins featuring new NFC chip technology or scan the front barcode to verify its authenticity with PCGS Cert Verification.
NFC Holder FAQs
---
Q: Do I Need to Download an App?
A: If your device has an active NFC reader, putting the phone in proximity of the holder will automatically launch the PCGS Cert Verification app if already installed. If you do not have that app it will open a web browser to display the information about the slab and the coin within.
To take full advantage of this security and anti-counterfeiting technology, we recommend downloading the PCGS Cert Verification app (https://www.pcgs.com/apps).
---
Q: How Close Does My Device Need to Be?
A: The range can vary, but NFC readers usually have a maximum range of approximately four inches.
---
Q: Will This Work on My Device?
A: Android phones as of 2012 and iPhone XS (or newer) phones already have NFC readers available. You may need to turn on this feature in settings. iPhone 7 through iPhone X can read the chips by downloading an NFC reader app. iPhones 6SE and older and well and pre-2012 Android phones are incompatible with NFC technology in our holders.
---
Q: Can I Use the Barcode?
A: Yes, the barcode will still work with the PCGS Cert Verification app, however the QR code will not appear on labels going forward.
---
Q: Is There an Extra Cost?
A: As of October 2020, NFC technology will be included in all PCGS coin and banknote holders at no additional cost.
---
Q: Are the Chips Secure?
A: Yes, when used in conjunction with the PCGS Cert Verification app this technology is the most secure anti-counterfeiting technology available in our market. The NFC chip contains a uniform resource locator (URL) that generates a unique, cryptographic one-time password (OTP) that changes every time the chip is tapped. This password is validated by the HID Trusted Tag® Cloud Authentication service to prove that it is the exact same tag that was issued with the slab. Our integration with this system allows Cert Verification to confirm the authenticity of the chip and flag any potential issues.
---
Q: How Can I Tell if a Holder has NFC Technology?
A: As of October 2020, all PCGS holders with NFC technology can be identified with the new NFC symbol featuring a shield with three bands above it on the reverse of the slab and/or in the bottom left corner in the holder itself located within the plastic. Note that some coins with special labels may only feature the symbol in the bottom left obverse of the holder.
---
Q: What if My Chip Doesn't Work?
A: The first step we recommend is ensuring your coin includes a chip by looking for the NFC symbols on the reverse and/or obverse of the coin holder. Next, we recommend checking your device compatibility and settings to assure that your NFC reader is on and that you have a reliable connection to the internet. If you find that the feature is still not functioning correctly please contact PCGS customer service at [email protected].
---
Q: How Long Does the Chip Last?
A: NFC chips are solid-state and have no moving parts, do not contain any sort of battery and will be encased in the same industry leading holder that keeps your coins and banknotes safe. Therefore, without the risk of exposure to the elements and damage we expect these chips to last beyond the general expected lifespan of 100,000+ scans and 40+ years.