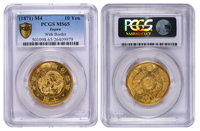 This 1871 Japanese 10 Yen, PCGS Secure Plus™ MS65, is the milestone 25 millionth coin certified by Professional Coin Grading Service.
(Newport Beach, California) - A historic gold coin from Japan has the distinction of being the 25 millionth coin authenticated and graded by Professional Coin Grading Service (www.PCGS.com) underscoring the growing appreciation worldwide for expert certification by PCGS.
The coin is a rare 1871 (Meiji 4) 10 Yen With Border on the Reverse variety. It was among a group of 33 coins recently submitted by a PCGS Collectors Club member in Toyko. On October 24, 2012 it was certified PCGS Secure Plus™ MS65, and became another major achievement in the company's history of accomplishments.
As a gift of appreciation to mark the milestone submission, PCGS is awarding the Japanese collector a Saint-Gaudens Double Eagle gold coin graded PCGS Secure Plus MS65 and valued today at $2,500.
The 1871 10 Yen is an important coin in Japanese numismatic history, according to PCGS. During the fourth year of the reign of Emperor Meiji, Japan adopted a gold standard under the New Currency Act of 1871, and it marked the start of the modern era of Japanese decimal coinage.
The 1871 10 Yen contains 16.6 grams of .900 fine gold, and 1,867,032 of the coins were minted that first year. The obverse design features a dragon and a pearl representing the sun. The reverse includes a mirror, sunburst and military banners with a raised line border around some of the design elements.
PCGS estimates the value of this particular coin at $6,000 or more.
"Since our founding in 1986, Professional Coin Grading Service experts have now certified 25 million coins with a total market value of over $27 billion," said PCGS Co-Founder, David Hall, President of PCGS's parent company, Collectors Universe, Inc. (NASDAQ: CLCT).
"It was just eight years ago in November 2004 that we certified our 10 millionth coin. Since then, PCGS services to collectors and dealers in the U.S. and overseas have grown along with the overall number of submissions."
PCGS certifies coins dated as far back as the 16th century from over 100 countries including France, Germany, Great Britain, Greece, Italy, Poland, Russia, Spain and Switzerland as well the United States, Australia, New Zealand, and countries in Asia, such as China, Japan and Korea, as well as countries in Africa and Central and South America.
"We've opened a new, larger European submission center in Paris and earlier this year we opened an Asian submission center in Hong Kong. We also created the PCGSEurope.com and PCGSAsia.com web sites that include useful coin information in a total of eight languages for collectors and dealers," explained PCGS President Don Willis.
The PCGS Set Registry (www.pcgs.com/setregistry) now contains more than 64,000 sets with a growing number of new participants in Europe and Asia. The free PCGS Photograde™ Online (www.pcgs.com/Photograde) feature makes it easy to determine the approximate grade of your coins, and the ever-expanding PCGS CoinFacts (www.PCGSCoinFacts.com) is the most comprehensive online resource for information and illustrations about United States coins."
For additional information about PCGS and its services, visit www.PCGSAsia.com call PCGS Customer Service at +33140200994, or email [email protected]