(Santa Ana, California) - The 1794 silver dollar that set a world record rare coin auction price of $10,016,875 was certified for authenticity and grade by Professional Coin Grading Service (www.PCGS.com), a division of Collectors Universe, Inc. (NASDAQ: CLCT).  PCGS certified it as a specially-struck (specimen) gem-condition coin and numerically graded it Specimen 66 on the numismatic grading scale of 1 to 70.
"This record price is a major achievement for the entire rare coin market.  We had our first $100,000 in 1972 (1931 Liberty nickel), our first $1 million dollar coin in 1996 (also a 1913 Liberty nickel), and now we have our first $10 million coin. The first time I saw this particular coin when we certified it in 2003, it made my heart thump.  It's a gorgeous, historic treasure," said Collectors Universe President and PCGS Co-Founder David Hall.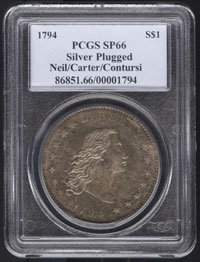 "The coin is struck so sharply it is easy to surmise this may be the first silver dollar struck by the United States.  All of us at PCGS are proud to have this special coin among the many famous, rare and valuable coins we have examined and certified for authenticity and grade," Hall added.
Since its founding in 1986, Professional Coin Grading Service has represented the industry standard in third-party certification.  In the past 27 years PCGS experts have certified over 25 million coins with a total market value of over $27 billion.
The certified coins are sonically sealed by PCGS in special holders.
"PCGS holders provide greater protection for the coins, and the PCGS brand guarantees authenticity, maximizes value and increases liquidity,"said Don Willis, President of PCGS.
Laura Sperber of Legend Numismatics, who placed the winning bid, said:  "PCGS nailed it when they graded the coin SP66.  There is no other 1794 dollar known that's remotely similar. It's special, and was specially minted, no question."
PCGS CoinFacts™ (www.PCGSCoinFacts.com), the Internet's most comprehensive resource for information about United States coins, estimates that less than 200 of 1,758 silver dollars struck by the United States Mint in 1794 survive today.  Although all have the same design of the allegorical "Miss Liberty" with long, flowing hair on the front of the coin and an Eagle on the back side, the coin that set the record price is significantly different from the other surviving examples.
"The planchet (blank metal disk on which the coin's design is struck) was specially prepared.  The strike is also significantly superior to other known examples and the coin's surface is prooflike with reflectivity.  It is also the only known 1794 dollar with a silver plug that was inserted prior to striking to make sure the coin's weight would be correct," explained Hall.
The record-setting 1794 dollar was the highlight of a public auction conducted by Stack's Bowers Galleries on January 24, 2013 in New York City.  It was consigned by Martin Logies on behalf of the Cardinal Collection Educational Foundation which purchased the coin in 2010 for the then-record price of $7,500,000 from Steve Contursi of Rare Coin Wholesalers.  In 1947, this same coin changed hands for only $1,250 in an auction conducted by a well-known dealer of the day, B. Max Mehl.
The $10,016,875 paid by Legend Numismatics set a world record price for any coin sold in a public auction.
PCGS experts believe there's another coin that could double that price, but it's not for sale and never expected to be available no matter what the price.
That coin is the unique 1849 Double Eagle ($20 denomination) coin struck at the Philadelphia Mint from ore obtained during the early days of the California Gold Rush.  It is part of the permanent National Numismatic Collection in the Smithsonian's National Museum of American History.  Estimated by PCGS to worth $20 million today, it's the highest-valued coin in the latest PCGS Million Dollar Coin Club™ tabulation (www.pcgs.com/million-dollar-coin-club ).
For additional information about Professional Coin Grading Service and its services including PCGS CoinFacts, in the USA visit www.PCGS.com or call PCGS Customer Service at (800) 447-8848; in Asia visit www.PCGSAsia.com  or call the PCGS Hong Kong Submission Center at +852 39606570; and in Europe visit www.PCGSEurope.com or call the PCGS Paris Submission Center at +33 (0) 1 40 20 09 94.