Representatives of Professional Coin Grading Service (www.PCGSAsia.com), the world's leader in coin authentication and grading services, will be attending the Australasian Numismatic Dealer's Association International Coin and Banknote Show in Melbourne, Australia, October 18 - 20, 2013.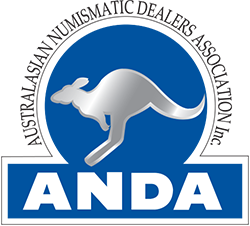 The show will be held in the Medallion Club (level 2) at Etihad Stadium.
This is the first time PCGS will be officially participating in a show in Australia, and it is part of the continuing global expansion of PCGS services to collectors and dealers around the world.      
Visitors to the PCGS booth (#30) will receive a free, PCGS-graded coin while supplies are available.  Ms. Muriel Eymery, PCGS Vice President of International Business Development, will present two educational seminars on Sunday, October 20: "PCGS Enhancing Your Coin Collecting" at 11 am, and "The PCGS Set Registry" at 2 pm. 
"This will be a great opportunity to meet Australian collectors and dealers and let them know about the revamped Population Report for Australian coins and the popular PCGS Set Registry™ program," said Eymery.
"We look forward to discussing the many benefits of having their coins certified by PCGS, and the convenience and security of submitting their coins to the PCGS Hong Kong Submission Center.  We'll also be explaining the benefits of PCGS Restoration Service that helps eliminate environmental problems that may have occurred to their coins," she added.
The PCGS Hong Kong Submission Center now offers express service twice a month and on-site grading twice a year during the Hong Kong International Coin Show. 
"Coin collecting is alive and well around the world, and world coin grading has become an important part of PCGS' business.  As collectors around the world understand the important benefits of third-party authentication and grading, more and more of them are insisting on it before they purchase a rare coin," said PCGS President Don Willis.
"The PCGS Set Registry is also growing in popularity with Australian collectors.  There already are nearly 900 Australian sets now listed in the registry, including commonwealth and decimal coinage categories," Willis said.
The PCGS Set Registry is free and fun. Collectors easily register their coins in a secure, online environment that lets them compare their sets with other collectors and also track the market prices of their coins.
Coins certified authentic by PCGS are "encapsulated," placed in a sturdy transparent holder made of inert materials and sealed with a tamper-evident method that inhibits atmosphere gases and contaminants that might harm coins.
PCGS offers an unlimited lifetime guaranty of authenticity and grade.
Since its founding in 1986, Professional Coin Grading Service experts have certified over 26 million coins with a total market value of over $27 billion. PCGS now certifies the authenticity and grades of coins from over 100 countries.
For more information about the ANDA Melbourne show, visit www.australiancoinshows.com.au.  For information about PCGS services in Asia, visit www.PCGSAsia.com or email [email protected].