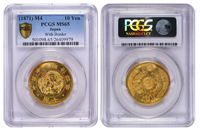 China (1912) Sun Yet-Sen $1, graded PCGS Secure Plus MS64.
(Singapore) - Dozens of rare coins from China, Malaysia, Australia and the United States certified for authenticity and graded by Professional Coin Grading Service are among the highlights of the upcoming Monetarium Singapore auction at the Marina Mandarin Hotel in Singapore and online, October 26, 2012.
"Many collectors from Asia are starting to realize the advantage and convenience of having coins graded by PCGS," stated Gilbert Chiang of Monetarium Singapore.
He said the work by PCGS experts to "weed out fake and artificially altered coins is greatly welcomed by genuine collectors. The grading system used by PCGS is very comprehensive, and this helps collectors to closely determine the fair value of each coin. This is one company with a consistently high standard of customer service and is always looking for ways to cater to the constant change in customers' needs."
Among the highlights of PCGS-certified coins in the auction are:
China (1912) Sun Yet-Sen silver $1 (Y-319, L&M-42 Low Stars) graded PCGS Secure Plus™ MS64;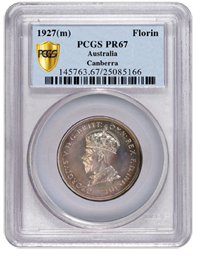 Graded PCGS Secure Plus PR67, this 1927 Australia proof Florin is one of only 400 struck.
and Australia 1927(m) George V silver proof Florin (KM-31), graded PCGS Secure Plus PR67. It is one of only 400 of these proof coins struck that year by the mint in Canberra.
Collectors can find everything they need to know about PCGS and how to submit coins on the company's new website, www.PCGSAsia.com .
"The PCGSAsia.com site has information in English, Chinese, Japanese and Korean. It features a Price Guide, Auction Prices Realized and Population Reports for coins from China, Japan and Korea," said Muriel Eymery, PCGS Vice President of International Business Development.
"PCGSAsia.com also is mobile optimized for smart phones and tablets in addition to traditional desktop websites."
PCGS recently opened a full-time office in Hong Kong where collectors, dealers and the public can submit rare as well as modern-issue coins for certification. Information about submitting coins in Hong Kong can be found online at www.PCGSAsia.com/Grading .
Since its founding in 1986, Professional Coin Grading Service experts have certified over 24 million coins with a total market value of over $26 billion. PCGS now certifies the authenticity and grades of coins from over 100 countries.
For additional information about the new PCGS Hong Kong Submission Center, go to www.PCGSAsia.com call PCGS Customer Service at +1 949-833-0600 (English) or +825 396 06570 (Chinese), or email [email protected] .
For additional information about the Monetarium Singapore auction, visit online at www.Monetarium.com, call in Singapore at +65 6337 2972 or email [email protected] .