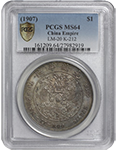 More than 380 coins certified for authenticity and graded by Professional Coin Grading Service (www.PCGSAsia.com) will be offered by Retro Coins Corporation in their second MintPlus Auction (www.mintplus-auction.com) in Tokyo, Japan on September 22, 2013.
The auction will have more than 600 Japanese and foreign gold and silver coins.  Highlights include a (1907) China silver dollar, LM-20, KM-212, graded PCGS Secure MS64 (lot #80) with a pre-sale estimate of ¥4,000,000, and (lot #232) a gold M4 (1871) Japan 10 yen without border, graded PCGS MS66, estimated at ¥800,000.
"Coins that are certified and housed in PCGS holders are guaranteed to be authentic and properly graded.  Collectors and dealers in Asia and around the world know that the PCGS certification helps maximize the value and the liquidity of their coins," said Ms. Muriel Eymery, PCGS Vice President of International Business Development.
Mintplus will have viewing of auction lots in Nagoya on September 14; in Tokyo on September 15 (reservation required); and in Osaka, September 16 to 18.
For additional information about the September 22 auction, visit Mintplus online www.mintplus-auction.com or Retro Coins at www.retrocoins.co.jp.  Email: [email protected].
For additional information about PCGS services in Asia (in Japanese, Chinese, Korean and English), visit www.PCGSAsia.com.