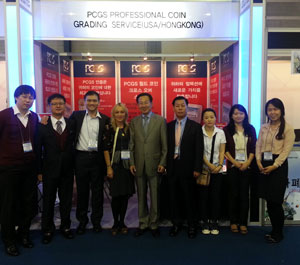 PCGS Vice President of International Business Development (center) and Luk King Yin, PCGS Hong Kong Customer Service Manager (to the left of Eymery) visited Hwadong Chief Executive Officer J.C. Lee (to the right of Eymery) and members of Mr. Lee's team at the 2012 Korea National Money Show.
(Seoul, Korea) - Representatives of the Professional Coin Grading Service (www.PCGS.com) attended the Korea Money Fair for the first time and heard compliments and congratulations from Asian collectors and dealers.
The three-day show in Seoul, October 26 - 28, 2012, was sponsored by the Ministry of Strategy and Finance, the Bank of Korea and Shinhan Bank. A PCGS Authorized Dealer in Korea, Coinstore (www.kpcgs.com) hosted a meeting to introduce PCGS services to the presidents of local coin clubs.
"The feedback was very positive from coin clubs and collectors."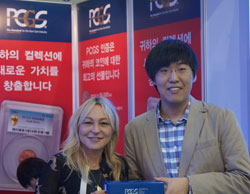 PCGS Vice President Muriel Eymery (left) heard compliments about PCGS from many people, including collector Siwoo Park (right), during the 2012 Korea National Money Show.
"Many collectors and dealers from Korea, Japan, China and Hong Kong visited the PCGS booth to learn about our services, the PCGS Guaranty of Authenticity and our new Submission Center in Hong Kong. Many were delighted to learn how easy it is to submit coins in Hong Kong and that this shortens the turnaround time for having their coins authenticated, graded and returned to them," said Muriel Eymery, PCGS Vice President of International Business Development.
The comments of collector Siwoo Park of Korea were typical: "I hope the Korean collectors deeply understand the philosophy and sincere attitude of PCGS to the Korean numismatic community. I really appreciated your visit in Korea," he stated.
A major new trend in the Asian numismatic market is to have rare coins and modern coins independently certified for authenticity and grade by the recognized experts at PCGS.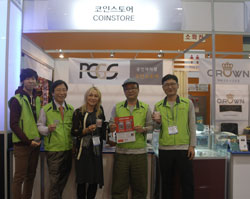 Mr. To Youn (second from the left) of Coinstore and members of his team with Muriel Eymery (center) at the PCGS booth at the 2012 Korea Money Show.
"The auctioneer for the Korea Money Show, Hwadon (www.Hwadong.com) is a PCGS Authorized Dealer. They have witnessed a greater interest in PCGS-certified coins in the past year, and they are now getting more coins graded at the PCGS Hong Kong Submission Center on behalf of their clients and for their auctions," said Eymery. "Collectors in Asia appreciate luxury goods, and having their coins certified is an important way to provide safety, security, liquidity and value."
Collectors, dealers and the public can submit rare and modern-issue coins for certification in Hong Kong, in person or by mail. Information in Korean, English and Chinese about submitting coins in Hong Kong can be found online at www.pcgsasia.com/Grading/.
A price guide and extensive historical information about Asian coins also can found on the new PCGSAsia.com web site.
Since its founding in 1986, Professional Coin Grading Service experts have certified over 25 million coins with a total market value of over $27 billion. PCGS represents the industry standard in third-party certification. PCGS is a division of Collectors Universe, Inc. (NASDAQ: CLCT).
For additional information about PCGS, go to www.PCGSAsia.com call PCGS Customer Service at +1 949-833-0600 (English) or +825 396 06570 (Chinese), or email [email protected]