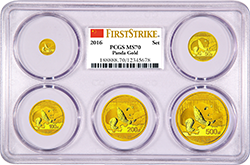 There is a new way to handsomely display your gold Panda coins.  Professional Coin Grading Service (www.PCGSasia.com) is now certifying sets of Panda coins in special five-coin holders, and qualifying sets can receive recognition as "First Strike."
"The Panda coins are among the most beautiful and popular gold bullion coins in the world.  PCGS certification provides value, liquidity and security, and the new PCGS five-coin holder is the best way to showcase your Panda coins," said Mr. Don Willis, PCGS President.
The popular five-coin sets have 10, 50, 100, 200 and 500 Yuan denomination coins, ranging in weight from 1 to 30 grams each.  The 10 Yuan silver Pandas weigh 30-grams, and PCGS is offering single coin First Strike label holders for certification of individual gold and silver Panda coins.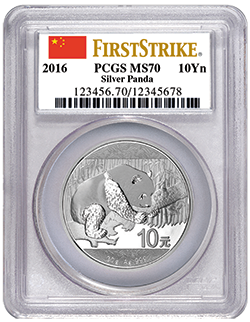 Collectors and dealers can choose between two different designs for the insert label on the five-coin holder: with or without the image of a Chinese national flag. The words, First Strike, will be included on the label for coins that grade Gem Brilliant Uncirculated or Mint State 70 and meet the First Strike submission criteria.
"The PCGS First Strike program is for coins issued in the first 30 days of their release from the mint or currency printing agency, and submitted and received by PCGS within those 30 days.  This distinctive label can add value to PCGS-certified modern coins," said Mr. Willis.
The new holders will be available for coins submitted during the upcoming PCGS On-Site Grading Event in Hong Kong, December 8 - 10, and during the Hong Kong International Numismatic Fair in Hong Kong, December 10 - 12. (Deadline December 10 before 12pm)
For additional information and PCGS Submission forms, go to www.PCGSasia.com.