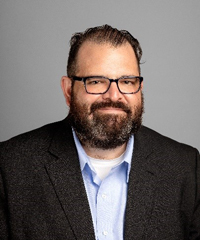 (Hong Kong)- Bruce Thornton has joined the Professional Coin Grading Service (PCGS) family as the Director of Banknote Grading. His initial focus will be building the China and Asia markets.
Thornton is a highly qualified professional banknote expert with more than 20 years of experience working in the industry. His passion for banknotes began early in his life while working at his father's business where he gained exposure to banknote dealing and collecting. "I sold my first banknote years ago at the young age of 12 to a popular banknote and coin dealer from China/Asia...I had a different childhood than most, I could look notes up in the Pick catalog before I could tie my shoes," reflected Thornton. After obtaining a degree in International Politics in the mid-1990s, Thornton began working in the banknote industry full time, traveling to shows and shops around the world.
Thornton is one of the world's foremost experts in grading and authentication of banknotes and is well known and respected throughout the collecting community for his knowledge and expertise in counterfeits.
Thornton worked for nearly ten years as a Grader/Senior Finalizer while participating in the collecting community in China and Asia to establish the market acceptance of certified banknotes throughout the world. He is also an educator, sharing knowledge through lectures and seminars worldwide and has taught classes on banknote grading at the ANA. Thornton is a member of PCDA (Professional Currency Dealers Association), IBNS, ANA, FUN, ICTA. He has sat on numerous boards including and was Governor of the PCDA. 
Through his travels pursuing, examining, and buying paper money, Thornton gained an unparalleled expertise in a variety of numismatic areas. "PCGS and Collectors Universe as a whole is in a class by themselves, and I'm excited about becoming a part of the team and welcome this unique opportunity," said Thornton. Outside of banknotes, Thornton spends his free time traveling and collecting rare books particularly first edition books by Hemingway and Kerouac.
Founded in 1986 by distinguished numismatic experts, Professional Coin Grading Service is the most respected coin authentication and grading company in the world and has offices in Hong Kong, Shanghai, Paris and the United States.
For additional information about PCGS and its services, visit www.PCGSasia.com  or email [email protected] You can also call PCGS Hong Kong office at +852 2194 6688 or send messages to +852 6933 7411 for more information.