Professional Coin Grading Service (www.PCGS.com.cn) will offer on-site authentication and grading at the Beijing International Coin Expo (BICE), October 11 - 13, 2013, through its strategic partner in mainland China, Shanghai Quanping Business Service Co. Ltd.
BICE is the largest coin show in China. It is co-organized by China Gold Coin Incorporation, China Banknote Printing and Minting Corporation and China Numismatic Museum and this year the show will be held at the China National Convention Center, No. 7 Tianchen East Road, Chaoyang District in Beijing.

"PCGS has participated at BICE since 2008, but this will be the first time PCGS experts will offer on-site grading at the show for collectors and dealers," said Mr. Don Willis, President of PCGS. "Modern Chinese coins dated after 1949 and vintage Chinese coins from the late 1700s to mid 20th century locally available in mainland China will be accepted for certification of authenticity and grade."
Coins can be submitted to PCGS at booth A002-A003 during the show or submitted to the PCGS Official Submission Centers in Beijing, Shanghai and Guangzhou from now through October 17, 2013.
For more information about how and where to submit coins to PCGS, please visit www.shquanping.com, or call 021-5386 5659 (Shanghai), 010-8223 1889 / 010-8296 0608 (Beijing), 020-8130 2460 (Guangzhou) or email [email protected].
PCGS also is officially launching its Chinese Set Registry as part of the popular PCGS Set Registry™ program (www.pcgs.com/setregistry).  There already are nearly 500 sets of Asian coins among the more than 67,000 sets of coins from around the world now listed in the Registry.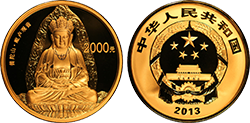 "Collectors easily register their coins in a secure, online environment that lets them compare their sets with other collectors and also track the market prices of their coins.  It's fun and it's free," explained the PCGS Set Registry creator Mr. David Hall, President of Collectors Universe, Inc. and Co-Founder of PCGS.
Each year starting in 2014, prizes will be awarded for the best sets in the Chinese Set Registry.
"Collectors can get additional information and enroll in the Chinese Set Registry at the PCGS booth at BICE.  All visitors to the booth will receive a free, PCGS-graded coin while supplies are available," said Ms. Muriel Eymery, PCGS Vice President of International Business Development. 
More than 200 coins certified by PCGS will be offered in the China Gold Coin Incorporation auction  on October 13 in conjunction with BICE.  Two of the many highlights are five-ounce gold Pilu Guanyin graded PCGS PR70DCAM and a five-ounce gold WutaiMountain also graded PCGS PR70DCAM.
For additional information about PCGS services in China and at the Beijing International Coin Expo, visit www.PCGS.com.cn or email [email protected].