The world's leader in rare coin authentication and grading, Professional Coin Grading Service (PCGS), again will be accepting submissions from collectors and dealers for on-site grading at the next Hong Kong International Coin Convention & Antique Watch Fair (HICC) and the pre-show in the Holiday Inn Golden Mile in Kowloon, August 20 - 25, 2013.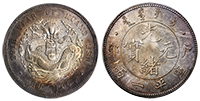 Coins can also be submitted at the PCGS Hong Kong Submission Center on Canton Road in Hong Kong through August 22.  Coins submitted there and at the shows by 5pm August 23 will be ready for return by the end of the Hong Kong show on Sunday, August 25.
Additional information and submission forms can be found online at www.PCGSAsia.com, or call PCGS Customer Service +852 2194 6688.
Coins certified for authenticity and grade by PCGS in Hong Kong will be encapsulated in the new, improved PCGS holder that was introduced at the recent Shanghai Coin Expo.  The new, durable plastic holders have several improved security features, have scratch-resistant surfaces and provide superior quality for viewing the coin inside.
"We heard many positive comments from collectors and dealers about the new generation of holders," said Mr. Don Willis, PCGS President.
 PCGS now has expanded the range of Chinese coins that the company will examine and certify.  Modern Chinese coins dated after 1949 and vintage Chinese coins from the late 1700s to the mid 20th century locally available in mainland China now can be submitted.    
"We are happy to align our service to better fit the modern numismatic history of most Asian countries. This will facilitate the access to PCGS grading services to a growing base of new collectors who focus on sets of circulating and commemorative modern coins, while adding to the PCGS Set Registry®  as well," explained Ms. Muriel Eymery, PCGS Vice President of International Business Development.
Three major auctions of rare Chinese coins will be conducted in conjunction with the Hong Kong show, and many PCGS-certified coins will be offered.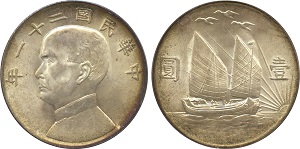 Among the highlights of the auction that will be jointly conducted by A.H. Baldwin & Sons Ltd. and Ma Tak Wo Numismatic C.o Ltd. are:
China, Empire, Hsuan Tung silver 10-cents, Year 3 (1911) (L&M 41; Y28). graded PCGS MS64, with a pres-sale estimate of US$3,200 - $3,800, and
China, Republic, Sun Yat Sen silver "Three Birds over Junk" dollar, Year 21 (1932), PCGS MS63+ with a pre-sale estimate of US$3,000 - $3,500.​
Among the highlights of the auction that will be conducted by Stack's Bowers are  
Korea, Warn, Year 497 (1888), KM-1103, the first modern machine- struck dollar of Korea and from the  Edgar J. Mandel Collection, PCGS Secure EF-45, estimated: US$25,000 - $30,000, and
The first unified machine-struck Tael of Imperial China, pattern Tael, PCGS Secure SP-63; pattern 5 Mace, PCGS Secure SP-64; pattern 2 Mace, PCGS Secure SP-65; and pattern Mace, PCGS Secure SP-65.

Finally, among the highlights of the auction that will be conducted by Rarehouse Auction Ltd. on 19-21/08/2013 at the Marco Polo Prince hotel are:
Fungtien Province INCE, Kuang Hsu Silver Dollar, Yr 25 (1899) (L&M-477), linear circle within dotted circle at center on rev. excessively rare. PCGS MS63, estimated US$40,000-60,000.
1122    Sun Yat Sen, Gold Standard Pattern Copper Coin $1, Yr 21 (1932) (KM-Pn136), plain edge. Excessively rare in such grade. PCGS SP58, estimated US$50,000-70,000
For additional information about PCGS services in Asia (in Mandarin and English) visit www.PCGSAsia.com.