PCGS is honored to take part in the 24th Tokyo International Coin Convention (TICC), the most important and established coin fair in Japan, May 2-4, 2013 at Royal Park Hotel, Tokyo (http://jnda.or.jp/ticc/index.html).

In conjunction with the TICC, Taisei Auction 2013 will take place on May 3, 2013 at the same venue which will undoubtedly attract hundreds of thousands of coin dealers and lovers to the auction hall to view and bid for the treasures of Japanese, Chinese and other World vintage and modern coins.

PCGS-certified coins are gaining popularity in the numismatic market in Japan. As per Mr. Masahiro Oka, Taisei CEO, "The "Taisei Auction" will be celebrating the 3rd year as the official public auction of TICC since 2011. And we will offer more foreign coins in addition to booming Chinese coins."
Among the highlights of PCGS-certified coins in the auction are:
Japan Meiji Year 4 (1871) Dragon silver 5 Sen graded PCGS Secure AU Details. Estimated selling price ¥70,000.
Japan Meiji Year 3 (1870) Shallow Scales silver 5 Sen graded PCGS Secure UNC Details. Estimated selling price ¥50,000.
Japan Meiji Year 3 (1870) 1 Yen graded PCGS AU58. Estimated selling price ¥50,000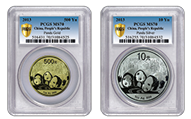 One of the special highlights of the TICC show this year is that Taisei Corporation will be offering the newly released 2013 1 oz. Gold and Silver Panda coins, graded PCGS MS69 and MS70. The coins are one of the most wanted modern Chinese coins and were certified by PCGS during the April 2013 Hong Kong International Coin Convention, concluded just a few weeks ago.

"We are very excited to participate again in the TICC show. Japan remains a strong growing market for PCGS-graded coins. Having the PCGS Hong Kong Submission Centre open all year long facilitates submissions from Japanese collectors and dealers.  Japanese coin collectors especially value high-quality coins, and are thus keener every year on PCGS independent third-party world-wide recognized grading standards and the added coin value, guarantee and liquidity which they ensure them," said Muriel Eymery, PCGS Vice President of International Business Development.
"We just revamped the PCGS Population Report for Japan and continue developing a price guide adding Japanese auction results for Japanese coin lovers at http://www.pcgsasia.com/Pop/JapaneseCoins?l=en&m=800,"Eymery added.
PCGS provides safety, security and value. PCGS offers an unlimited lifetime guaranty of authenticity, and certification increases your coin's value and liquidity.  PCGS is recognized worldwide as the standard for coin grading.
Since its founding in 1986, Professional Coin Grading Service experts have examined and certified over 25 million coins with a total market value of over $27 billion. PCGS is a division of Collectors Universe, Inc. (NASDAQ: CLCT).
To learn more about PCGS and our services in Asia, please visit our booth at P5 at TICC or contact PCGS Hong Kong Submission Centre at +852 2194 6688. Our Japanese speaking staff will be happy to assist. You may also email [email protected] or visit www.PCGSAsia.com.