Professional Coin Grading Service (www.PCGSasia.com) will offer extraordinary opportunities for collectors and dealers at the Hong Kong International Coin Convention (HICC), 8 – 10 April 2016, including the opportunity to receive a free silver-plated medal that commemorates PCGS' 30th anniversary.  The show will be held in the Holiday Inn Golden Mile Hotel, 50 Nathan Road, Tsim Sha Tsui, in Hong Kong.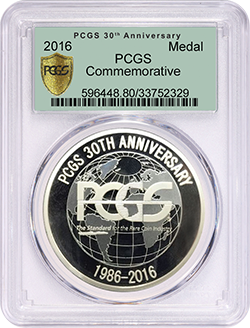 PCGS also will be offering attractive Mother's Day labels for submissions of gold or silver Pandas and 2016 Chinese New Year coins; Year of the Monkey labels for bi-metallic, business strike gold and silver Year of the Monkey Lunar series coins; and a distinctive PCGS 30th anniversary commemorative insert label for coins submitted before and during the Hong Kong Pre-Show, 5 – 7 April, and during HICC.
"The beautiful Mother's Day labels include the image of a lovely red carnation. PCGS-certified coins in these holders will be a wonderful gift for anyone's mother.  We also will be offering attractive special labels commemorating the Lunar New Year with a Year of the Monkey design," said Mr. Don Willis, PCGS President.  
"The PCGS 'retro' commemorative labels indicate 'PCGS 30th Anniversary' and are the same green color used when PCGS opened for business in 1986.  These special labels can be requested for all standard coins submitted at the pre-show and at HICC.  And, as a bonus, we are giving away a free PCGS green box with each 30th Anniversary submission," Mr. Willis explained.
Any collector or dealer who submits 25 or more coins or banknotes at HICC will receive a free 40 millimeter silver-plated PCGS 30th anniversary medal in a PCGS holder with the commemorative green 30th anniversary label.  There is a limit of one medal per customer while supplies last for the first 500 customers.
The retro labels are available for all coins that fit into a standard size PCGS holder, and with a minimum submission of five coins.  The retro labels are not available in conjunction with any other labels, such as First Strike. The fee for the special retro, Mother's Day and Year of the Monkey labels is US$5 per coin and with only one type of special label request per submission form. Please contact PCGS in advance if you will be submitting 1,000 coins or more.
Founded in 1986 by distinguished numismatic experts, Professional Coin Grading Service is the most respected coin authentication and grading company in the world.  With offices in Hong Kong, Shanghai, Paris and the United States, PCGS has certified over 32 million coins with a total market value of over US30 billion dollars.
For additional information about PCGS and submissions in conjunction with the Hong Kong International Coin Convention & Antique Watch Fair, go to www.PCGSasia.com, call +852 2194 6688 or email [email protected].