(Hong Kong)  To celebrate the 40th anniversary of Chinese Economic Reform, the People's Bank of China has issued a set of commemorative coins, beginning November 16, 2018, to celebrate the event. The set contains a total of 7 commemorative coins, including one gold coin, five silver coins and one dual-color copper alloy coins, all of which are legal tender of the People's Republic of China.
PCGS offer special label, First Day of Issue designation and FirstStrike® designation, add more artistry and collectible value to your collection.
Special Label for Single Coin Holder
PCGS provides 2 types of special label for single coin holder, you can choose either one to make your collection more valuable.
A Glory Days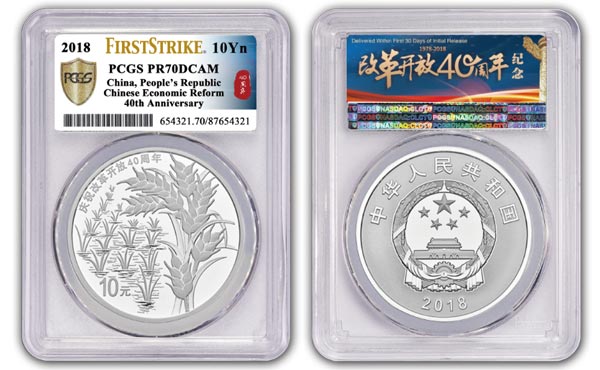 Design inspiration: the grand peacock blue as the base, it shows the historical depth of economic reform
B Golden Journey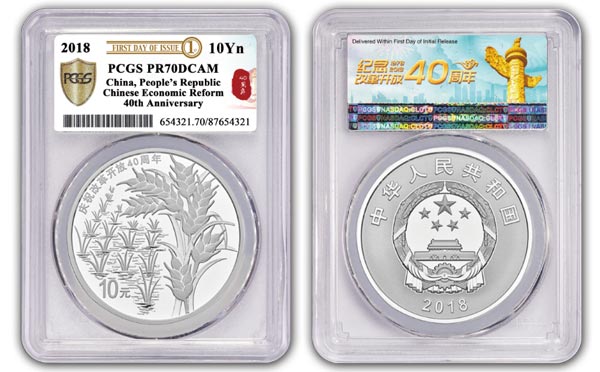 Design inspiration: economic reform is not only a great feat, but also a brilliant golden memory
Special Label for Multi-Coin Holder
For your favorite commemorative coins, you can also choose our multi-coin holder. The special label "Red Memory" can make your collection more special.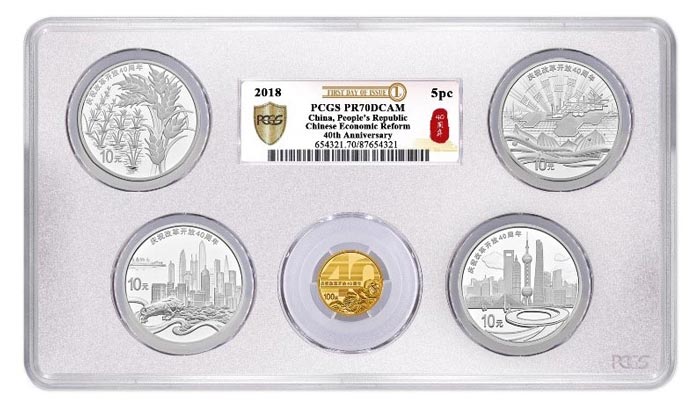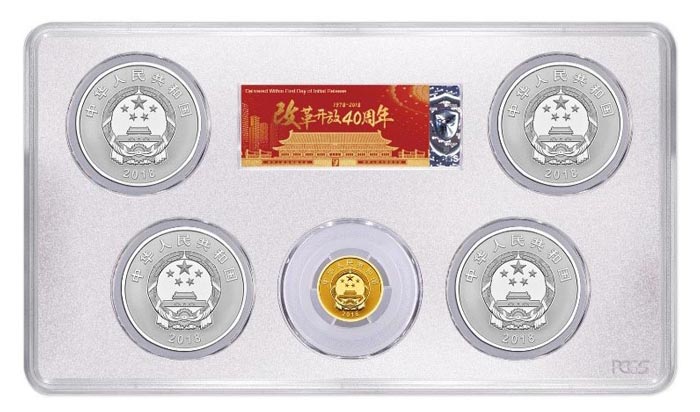 Design inspiration: in the background of Chinese red and magnificent architecture, it highlights the greatness of reform in the 40th anniversary of economic reform.
Price
● Special label: USD 5/piece (free of charge if a total of 25 pieces or above are submitted)
● FIRSTSTRIKE®: USD 5/piece
● Special label + First Strike® designation: USD 10/piece
● First Day of Issue: USD 8/piece
● Special label + First Day of Issue designation: USD 13/piece
A minimum of five coins for each submission form. For batch submission, please contact our Hong Kong Office.
Fill out the application:
You may choose the special label or FIRSTSTRIKE® designation or First Day of Issue designation individually, or choose the special label plus FIRSTSTRIKE® designation or First Day of Issue designation. Your choice must be indicated in the submission form, including which label, such as a note of "Chinese Economic Reform 40th Anniversary (Glory Days) + First Day of Issue designation."
Application deadline
Application for First Day of Issue designation must be submitted to PCGS Hong Kong Office before 10 am of the first workday upon coin issue; and application for FIRSTSTRIKE® designation must be submitted within 30 days upon coin issue. In case of mail submission, relevant reliable certificate for the mailing time is required.
Please contact PCGS at [email protected] for bulk submissions.
Founded in 1986 by distinguished numismatic experts, Professional Coin Grading Service is the most respected coin authentication and grading company in the world and has offices in Hong Kong, Shanghai, Paris and the United States.
For additional information about PCGS and its services, visit www.PCGSasia.com or email [email protected] .