Professional Coin Grading Service (www.PCGS.com.cn), the world's leading coin authentication and grading company, will be introducing new and improved holders offering better security, usefulness and efficiency to house and protect PCGS-certified coins in mainland China.  PCGS is not charging any additional fees for their improved, state-of-the-art holders.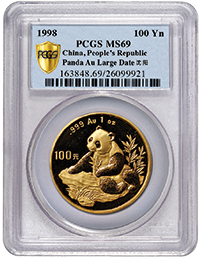 Coins certified by PCGS are sonically sealed (encapsulated) in special inert plastic holders that help protect the coins from environmental damage and give buyers and sellers peace of mind that the coin inside is genuine and accurately graded.  A unique certification number is permanently sealed inside each capsule.
"We now have a new generation of PCGS holder with several new security features as well as scratch resistant surfaces and superior clarity for viewing the coin inside," said Mr. Don Willis, President of PCGS, a division of Collectors Universe, Inc. (NASDAQ: CLCT). 
"These improved, durable plastic holders are scratch resistant and they are tamper evident to easily detect if someone has tried to open them.  They will provide optimum protection for easy handling and safe, long-term storage of coins," Mr. Willis explained.
Mr. David Hall, President of Collectors Universe, Inc. and a PCGS Co-Founder, stated: "Since 1986, PCGS experts have examined more than 26 million coins with a combined value of over US$27 billion.  We have continually made improvements to provide benefits to the hobby, and we believe collectors and dealers deserve the best possible holder without having to pay additional money for it." 
PCGS will begin using the new holders when it opens its new Shanghai Grading Center on July 20, 2013, and begins accepting submissions through its exclusive partner in mainland China, Shanghai Quanping Collectibles Co. Ltd., at the Shanghai Coin Expo in the Hilton Shanghai Hotel, July 20 and 21.
"Visitors to the PCGS booth at the show will be able to see in person the exceptional clarity of these new holders that we believe are the best in the marketplace.  Also, while limited supplies are available, visitors to our booth can receive a free souvenir coin in one of the new holders," said Ms. Muriel Eymery, PCGS Vice President of International Business Development.
On July 20, PCGS will be accepting submissions for certification of modern Chinese coins dated after 1979 and vintage Chinese coins from the late 1700s to the mid 20th century that were locally available in mainland China.
For additional information about PCGS authentication and grading fees, go to www.PCGS.com.cn.  The new website also has easy to use submission forms for sending your coins for certification to the official PCGS Submission Centers in Shanghai, Beijing and Guangzhou in cooperation with Shanghai Quanping Collectibles.