(Beijing, China) – Chinese rare coins certified by Professional Coin Grading Service (www.PCGS.com.cn  ) are among the highlights of the Beijing ChengXuan Autumn Auction (www.ichengxuan.com ) to be held at the Hotel Kunlun Beijing, 2 Xinyuan Nan Lu, Chaoyang District, Beijing, China on November 20, 2013.
Among more than 1,000 Chinese vintage and modern coins in the auction, there are over 500 PCGS-graded coins.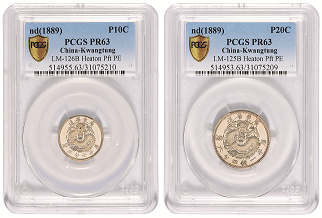 The top two treasures featured on the cover of the auction catalogue are the Ching Dynasty, Kuang Hsu Yuan Pao Silver Coin Patterns, 1.46 Mace and 7.3 Candareens, Kwangtung Province minted in the year of 1889 (Lot no. 1247). Both of them are graded PCGS Secure PR63.  According to PCGS China Population Report (http://www.pcgs.com.cn/pop/ChineseCoins ), they are the only coins of their kind graded and encapsulated in PCGS holders. Their selling price could reach a record high RMB 620,000 to 1 million. 
"Chinese milled coins especially those awarded high grades by world leading grading company are very popular among collectors from mainland China and overseas. It represents a huge segment of the overall Chinese coin collectible market.  I believe customers will be amazed with the many historical treasures to be presented at the upcoming auction," said Ms. Zuo Jinghua, Managing Director, Beijing ChengXuan Auction Co., Ltd.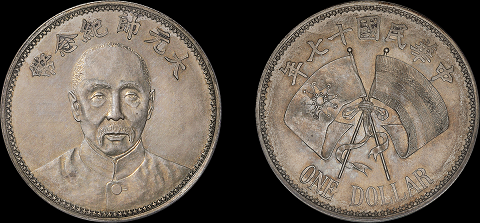 "We are seeing huge demand for PCGS graded coins in China because PCGS provides an unlimited guaranty of grading, and certification increases coin's value and liquidity. PCGS is recognized worldwide as the standard for coin grading," said Mr. Don Willis, PCGS President. 
"The opening of PCGS Shanghai operations was a strategic move to provide convenient, fast and risk-free grading service in mainland China. Dealers and collectors can also enjoy superior customer service provided locally by PCGS Official Submission Centers  run by PCGS' strategic partner, Shanghai Quanping Business Services Co., Ltd. (www.shquanping.com ) and key auctioneers as Beijing Chengxuan," Mr. Willis added. 

More highlights of PCGS-graded coins in the Beijing ChengXuan Autumn Auction:
Republic, Marshal Chang Tso-lin Silver Commemorative Dollar, 1928, Rare, PCGS SP61.  Lot no. 2235, estimated selling price RMB1,050,000 - 1,500,000.
Republic, Sun Yat-sen Silver Dollar Pattern, 50 Cents, Diameter: 25mm, 1936, Rare, PCGS SP62. Lot no. 2198, estimated selling price RMB200,000 – 300,000.
Republic, Copper Coin, 1 Cent, KwangtungProvince, 1936, PCGS SP64BN. Lot no. 1752, estimated selling price RMB200,000 – 250,000. 
"Having such a prestigious and lead auctioneer as Beijing Chengxuan choosing to do their catalogue's cover with two rare PCGS-graded coins demonstrates the prime choice of PCGS for vintage Chinese coins. The fact that half of the auction's coins, including vintage and modern,  are graded by PCGS is another proof of the trust and recognition of our expertise in this field." said Ms. Muriel Eymery, PCGS Vice President of International Business Development. 
"PCGS now provides on-site grading for vintage coins 4 times a year in China and recently expanded our services year-round  to grade modern Chinese coins (dated 1979 and after) ensuring a quick, risk-free turnaround time of 3 weeks." Ms. Eymery added.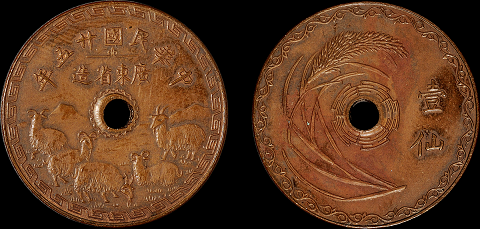 Coins can be conveniently submitted in mainland China at the PCGS Official Submission Centers in Beijing, Guangzhou and Shanghai in person or by mail, or submitted through a network of more than 80 PCGS Authorized Dealers in mainland China (http://www.PCGS.com.cn/dealers).           
For more information on how and where to submit coins to PCGS, visit www.pcgs.com.cn