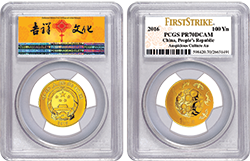 Continuing the 30th anniversary celebration of Professional Coin Grading Service (www.PCGSasia.com), the company will offer a unique commemorative insert label that complements China's Auspicious Culture coin series.
The first two of four gold and silver coins were issued by the People's Bank of China on March 22 and April 26, 2016, with two more pairs of gold and silver coins slated for release on May 18, and June 22 of this year, respectively. Each coin released will depict an Auspicious Culture theme and come in silver (10 Yuan) and gold (100 Yuan) denominations.   PCGS will make special labels available for all four releases.
"The custom that surrounds these special coins involves lucky messages that evoke harmony.  So it made sense to unveil this lucky label, which harmoniously pairs with Auspicious Culture's silver and gold coins," said Mr. Don Willis, PCGS President.
The labels correspond with the coin's 10 and 100-Yuan denominations and are adorned with peach-colored flowers on the left corner of the obverse, amongst a white backdrop. The same flowers grace the entirety of the reverse, amongst a gold backdrop, with a crimson tassel.
"It's a time of celebration for us at PCGS, and these beautiful coins released in the Auspicious Culture series are a perfect vehicle to continue our celebration," according to Mr. Willis. "Longevity is the hallmark of this revered custom, so the coin series is somewhat of a metaphor for our 30th anniversary, our longevity."

Auspicious Culture special label submission instructions are as follows:
Available in conjunction with First Strike®;
Submissions must be delivered to PCGS office within 30 days of issue, or must have the postmark dated within 30 days of issue;
 Coins must be in unopened original mint package;
Prices are: 5 USD per label and 10 USD for Special Label and First Strike (in addition to grading fee).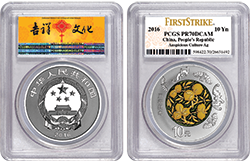 PCGS is also offering special commemorative Mother's Day labels.  Please follow these instructions to submit:
Insert is available for 2016 Chinese New Year & Panda coin issues;
Coins must fit into a standard size PCGS holder;
Not available in conjunction with any other labels (i.e. First Strike);
Must meet a min. of 5 coins per order to qualify;
Pricing: 5 USD per coin (in addition to the grading fee);
Please contact PCGS for bulk submissions.
Please contact PCGS at [email protected] for bulk submissions. 
Founded in 1986 by distinguished numismatic experts, Professional Coin Grading Service is the most respected coin authentication and grading company in the world and has offices in Hong Kong, Shanghai, Paris and the United States.
For additional information about PCGS and its services, visit www.PCGSasia.com or email [email protected].