(Hong Kong) -- PCGS (www.PCGSAsia.com ), the world's leader in third-party coin authentication and grading, congratulates Memory Collection, one of the seasoned authorized PCGS dealers in Asia, on its first auction held in Hong Kong in January 2014.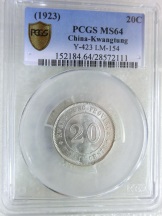 This successful, inaugural auction at Memory Collection's new office in Mongkok attracted over one hundred coin lovers and concluded with a total of 174 lots sold including coins from China, Hong Kong, US and Europe.
Mr. Simon Sum, Managing Director of Memory Collection, is satisfied with the results of his first auction. "It was such a good time to see many collectors and enthusiasts, both new faces and old friends, getting together to share the same great passion for coins. It was also a remarkable milestone for Memory Collection. I believe that a marvelous auction experience in the beginning will turn into a great success in the future," he said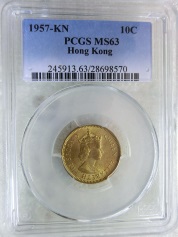 This auction saw many mid-range coins from China, Hong Kong and the rest of the world. PCGS-graded coins were also among the highlights of the auction such as:
1932 China Kwangtung "Big S" 20 cents silver coin, L&M-154, PCGS MS64. Starting price HK$800 and sold HK$1,600. Lot 90.
 1957 Hong Kong Queen Key Date 10 cents, PCGS MS63. Starting price HK$200 and sold HK$1,000. Lot 132.

"We congratulate Simon's great success in his first auction held in Hong Kong. It is also great to see dealers like Memory Collection being so enthusiastic to promote coin collecting and trading in the market. We look forward to more successful auctions from Memory Collection in the years to come," said Ms. Muriel Eymery, PCGS Vice President of International Business Development.
The 2014 April Hong Kong International Coin Convention (HICC), one of the biggest coin shows in Asia, is fast approaching. PCGS Asia will once again offer on-site grading at the show. Collectors and dealers are welcome to submit coins to the PCGS HK Submission Center from early March 2014 to enjoy the fast-turnaround show service. More service details and pricing information will be announced on http://www.pcgsasia.com/Submit?l=en  shortly. You may also contact PCGS HK Customer Service at +852 2194 6688 or [email protected].