(Tokyo, Japan) -- Professional Coin Grading Service (http://www.PCGSAsia.com) representatives will be at the May 2014 Tokyo International Coin Convention (TICC) show in the Royal Park Hotel, May 2 - 4.
"Collectors and dealers in Asia and around the world know that PCGS certification helps maximize the value and the liquidity of their coins," said Mr. Don Willis, PCGS President.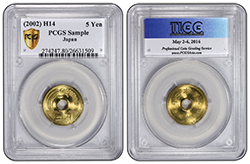 "PCGS will be introducing collectors and dealers to our new, crystal clear, scratch resistant holder, and to tell them about the importance of the PCGS guarantee of authenticity and grade and the PCGS services that are now conveniently available in Asia. While supplies last we will give a free, PCGS-certified coin to visitors who come to our booth (#K-7)," said Ms. Muriel Eymery, PCGS Vice President of International Business Development.
The TICC show is hosted by the Japan Numismatic Dealers Association.
Ms. Keiko Ishii of World Coins Japan in Tokyo (http://www.coins.co.jp), the first PCGS Authorized Dealer in Japan more than ten years ago, stated:
"With PCGS attending the TICC show for the past several years, we have been able to promote the benefits of PCGS authentication and grading to our Japanese clients."
Rare coins, certified for authenticity and grade by PCGS, will be featured at two major auctions conducted during and after the show.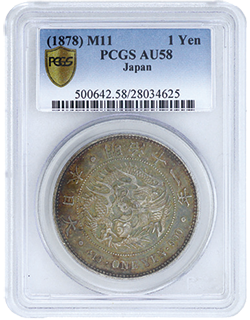 Taisei Coins (http://www.taiseicoins.com) of Tokyo will hold an auction on May 3 that includes:
Lot #91 France 1869 Paris Mint Napoleon III 100 gold Francs, graded PCGS AU58.  Pre-sale estimate: ¥140,000.
Lot #168 Great Britain 1887 Queen Victoria Jubilee gold 5 Pounds, PCGS Genuine, Uncirculated; estimate ¥200,000.
Lot #460 Japan Meiji Year 11 (1878) silver 1 Yen, PCGS AU58; estimate ¥100,000.
"Taisei will be celebrating our fourth year as the official public auction of TICC since 2011. Taking this opportunity, I would like to express my sincere appreciation for the support of all the bidders. In the Taisei Auction 2014 we will offer you more variety of foreign coins than last year.  So, I hope everybody will be satisfied with our auction," said Mr. Masahiro Oka of Taisei Coins.
Mint Plus of Osaka (http://www.mintplus-auction.com) will hold an auction on May 18 that includes:
Lot #40 Great Britain 1917 gold Sovereign, PCGS MS61; estimate ¥800,000.
Lot # 203 Japan Meiji 8 (1875) gold 5 Yen, PCGS MS67; estimate ¥800,000.
Lot # 295 Japan Meiji 8 (1875) Trade Dollar OhGiri type, PCGS AU Details; estimate ¥ 2,000,000.
Mr. Daisuke Ohta of Retro Coins Corp. (http://www.retrocoins.co.jp) said he is proud to be a PCGS Authorized Dealer: "The spread of PCGS is giving new choices for expert collectors and attractive choices for beginning coin collectors about coin collection. They are excited about grading and surely get a feeling of satisfaction and security.  PCGS provides excellent choices to make coin collecting pleasurable and coin values reliable."
For additional information about PCGS services, visit online at www.PCGSAsia.com, email [email protected], or call the PCGS Hong Kong Submission Center at + 852 2194 6688.