(Tokyo, Japan) - Professional Coin Grading Service (https://www.PCGSasia.com) representatives will be at 2017 Tokyo International Coin Convention (TICC) in the Royal Park Hotel from April 28 to April 30. Coins and banknotes submissions will be accepted during the show at booth R11.
The 2017 TICC is organized by Japan Numismatic Dealers' Association (http://www.JNDA.or.jp). It is well known as the biggest coin show in Japan with the cooperation of Japan Mint and National Printing Bureau as the official supporters. Its reputation is internationally recognized by the world-wide mints and dealers.
"Collectors and dealers in Asia and around the world know that PCGS certification guarantees authenticity and maximizes the value of their coins," said PCGS President Don Willis.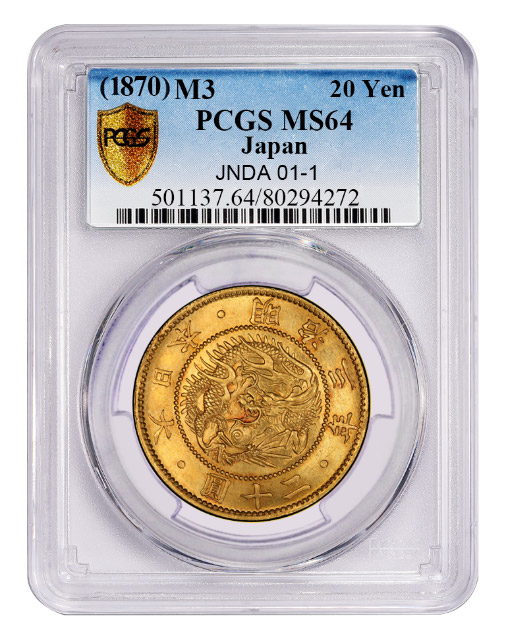 Lot #241
Rare coins, graded by PCGS, have been featured at some major auctions in Japan in recent years. For instance, Mint Plus held an auction on May 15, 2016 with these highlights:
Lot #241 Japan, Meji 3 (1870), gold 20 Yen, PCGS MS 64: realized JPY 7,100,000
Lot#36 Great Britain, George III, Half Crown 1816, Plain Edge, PCGS PR63: realized JPY 620,000
Lot#138 China-Manchoukuo, KT9 (1942), Chiao, Pattern: realized JPY 415,000
Founded in 1986 by distinguished numismatic experts, Professional Coin Grading Service is the most respected coin authentication and grading company in the world and has offices in Hong Kong, Shanghai, Paris and the United States.
For additional information about PCGS and its services, visit www.PCGSasia.com or email [email protected].