January 18, 2021 – March 31, 2021
We are celebrating our 35th Anniversary as the premier third-party coin and banknote grading and authentication service with a special commemorative label. This label is available for free through our reholder special or through our standard special label program for $7. In addition, the light blue box is available for free if you purchase 10 or more PCGS 35th Anniversary Special Labels or submit 10 or more coins for reholder service.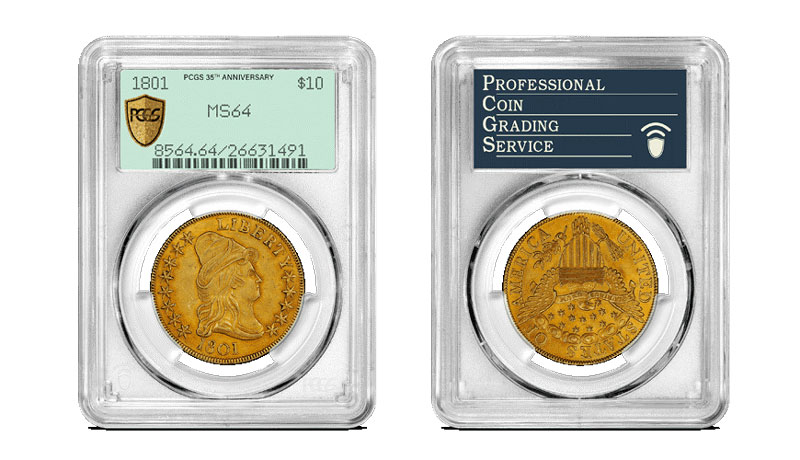 PCGS 35th Anniversary Special Label
This limited-edition label is an ode to our early label design before the introduction of our famous standard blue vignette label. The label's text font accentuates this retro style, and "PCGS 35th Anniversary" is written across the top to mark this special occasion. Moreover, while the frontside contains the latest iteration of the PCGS Gold Shield, the backside showcases the company's latest NFC logo in the lower right corner.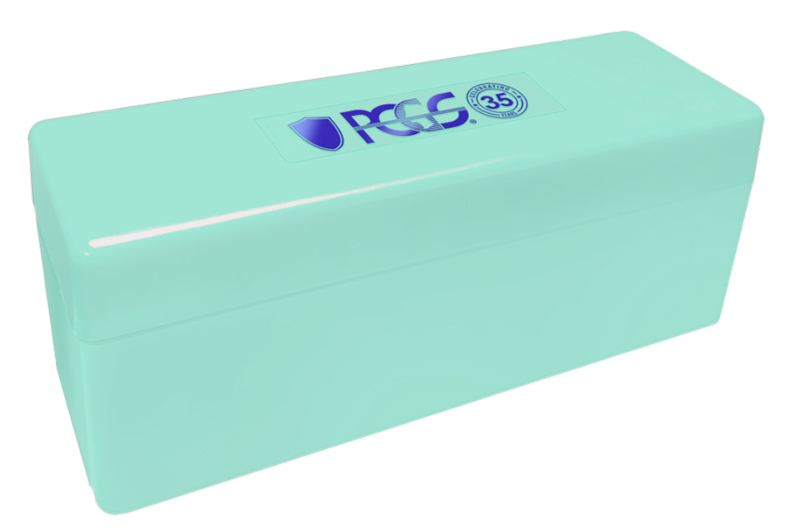 PCGS 35th Anniversary Storage Box
This limited edition PCGS 35th Anniversary Storage Box is the first being released this year, and its mint color mirrors the special label offered in this special.
Reholder Special Guidelines
Valid only for Reholder submissions processed through PCGS Asia.
Valid for unlimited submissions during this special.
The 35th Anniversary label is available at no additional charge when requested through the January 18, 2021- March 31, 2021 Reholder Special or for $7 when requested through our standard special label program. 
All coins on the submission form must receive the 35th Anniversary label, no mixing of labels on the same form is permitted. 
To request the Gold Shield 35th Anniversary Label, mark the "Other/Special Label" service level line "35th Anniversary Label." 
During the reholder special, all qualifying reholder submissions are $10 and are eligible to receive complimentary PCGS 35th Anniversary Labels. 
Special labels and identification of varieties are charged in addition to the grading fee.
Guarantee Premium* fee applies to all Regrade and Crossover submissions. For additional information, visit the PCGS How To Submit page. 
Additional Guidelines:
All submissions must be postmarked by Friday, March 31, 2021.
Turnaround time is estimated and will vary by demand.
Standard shipping and handling fees apply.
Valid for current Collectors Club members and Authorized Dealers in good standing.
Please email to [email protected] PCGS Hong Kong Office to inquire about the grading charges for bulk submission.
Please visit www.PCGSasia.com, email to [email protected] or call PCGS Hong Kong Office +852 2194 6688 or send messages to +852 6933 7411 (WhatsApp, LINE or WeChat) for Asian services of PCGS.